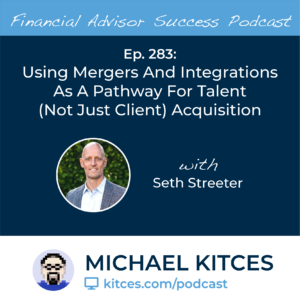 Welcome back to the 283rd episode of the Financial Advisor Success Podcast!
My guest on today's podcast is Seth Streeter. Seth is the founder and CIO of Mission Wealth, an independent RIA based in Santa Barbara, California that oversees nearly $5 billion in assets under management for over 2,000 client households.
What's unique about Seth, though, is how he and Mission Wealth have been growing through mergers, but not just for the purpose of acquiring assets, and instead with a 'mergers & integrations' approach to essentially hire-by-acquisition (or acqui-hire) financial advisors and their team members to get the additional staff to scale Mission's own ongoing growth engine.
In this episode, we talk in-depth about how Seth and his firm leverage what they refer to as an "M&I" (short for Mergers and Integrations) approach to 'acquihire' top talent (especially advisors with an entrepreneurial mindset) to scale up their advice teams and other key roles in the firm; how Seth and his firm attract that entrepreneurial talent into an employee role by offering diamond teams, dedicated departments, internal succession plans, and most importantly partnership equity opportunities; and how Seth and his firm also leverage multiple channels of growth to provide clients to their expanding base of advisors, including the use of custodial referrals, Centers of Influence, and digital marketing to maintain their organic growth momentum.
We also talk about how, while assessing his own happiness and fulfillment, Seth created an 11-dimension happiness framework that guides the firm's Inspired Living Coaching Services to provide more holistic wealth discussions for clients of the firm; how Seth and his firm developed three key programs within their Inspired Living framework, including Inspired Talks with inspirational speakers, Wisdom Shares with virtual Zoom groups, and Conversation Circles about life goals; and the way Seth's firm has segmented its clients into four tiers – Emerging for under $1M, Integrated up to $5M, Private Client up to $20M, and Family Office for households with over $20M – and varies the services that it offers to each.
And be certain to listen to the end, where Seth shares how the humbling experience of consecutive life challenges of his own divorce, health, and financial issues, and separating from his former accounting firm, all helped him grow and gain his own sense of resiliency; why Seth believes that forming referral partnerships (from 'traditional' Centers Of Influence like attorneys and accountants to non-traditional options like P&C insurance agents, bill-paying services, and even life coaches and fitness trainers) are the key for advisors to grow, and how Seth's own journey as a CEO was transformed when he transitioned away from being the 'buttoned-up' financial professional that he thought he was supposed to be early on in his career and now just shows his own authenticity and lets himself be more vulnerable.
So whether you're interested in learning about how Seth leverages not only assets, but also mergers and acquisitions to acquire top talent, how Seth's programs give his clients a deeper, more holistic approach to their wealth, or how Seth connects with traditional and non-traditional referral options to allow his advisors to spend more time on client relationships rather than prospecting, then we hope you enjoy this episode of the Financial Advisor Success podcast, with Seth Streeter.